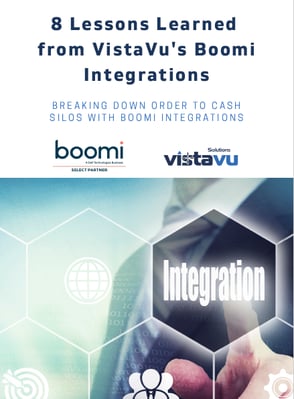 eBook
8 Lessons Learned from VistaVu's Boomi Integrations
Breaking down order to cash silos with Boomi integrations
Moving with increased agility and greater operational insights is essential. Fortunately, digital technology is providing the tools needed to transform business practices.
Having the right digital tools is only a starting point. Without integration, you miss the opportunity to promote productive collaboration, enhance customer experience & streamline workflows. This eBook explore three key integrations including:
We've worked with clients across different industries to implement these integrations along with many others, and have learned some important lessons along the way. Download this eBook to learn more about these integration projects.
.
"We moved from a break-fix relationship with a previous partner to a strategic one with VistaVu. The VistaVu team has helped us with projects that have improved our processes, and every integration has been successful"

- Serge Hoover, Finance & Systems Director, OCI Americas