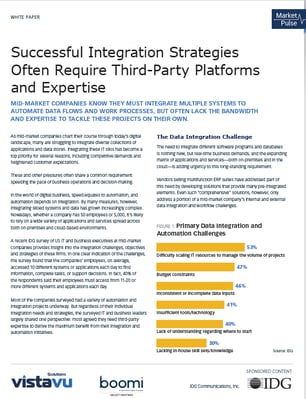 Whitepaper - IDG & VistaVu Solutions
Successful Integration Strategies Often Require Third-Party Platforms & Expertise
Mid-market companies know they must integrate multiple systems to automate data flows and work processes, but often lack the bandwidth & expertise to tackle projects on their own.
As mid-market companies chart their course through today's digital landscape, many are struggling to integrate diverse collections of applications & data stores. Integrating these IT silos has become a top priority for several reasons, including competitive demands and heightened customer expectations.
Primary data integration & automation challenges faced by companies today include:
Difficulty scaling IT resources
Budget constraints
Inconsistent or incomplete data inputs
Insufficient tools & technology
Download this whitepaper from IDG & VistaVu Solutions to learn how to address challenging digital transformation and business needs with Boomi, including platform integration and workflow automation.
Download this FREE whitepaper from IDG & VistaVu Solutions